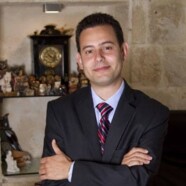 Graduating in 2004 with a doctorate in law, Dr Franco Galea pursued studies in taxation, trusts and insurance legislation and specialises in the field of banking, finance and insurance.
Dr Galea has also acted as counsel for a number of local companies in commercial and civil matters both before the Maltese Courts and during arbitration proceedings and provides legal advice on commercial transactions and corporate compliance on regular basis to wide variety of clients. He is regularly involved in contract drafting, anti-money laundering advice and frequently assists clients in tax related issues.
He was called to the bar in early 2005 and is a member of the Maltese Chamber of Advocates and the Malta Institute of Taxation.
He speaks English, Maltese and Italian and has a working knowledge of German.
Contact Information:
Email: francogalea@sagajuris.com
Telephone: +356 21232387
Mobile: +356 79478536