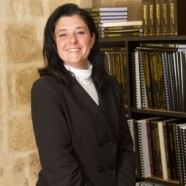 Dr Geraldine Spiteri was admitted to practice law in 2002, after having trained under Dr Patrick J Galea, and is a member of the Chamber of Advocates. She has subsequently obtained Masters degrees in the specialised areas of EU and Comparative Law and of International Maritime Law. She lectures on maritime legislation and communications on board ship on a part time basis at the MCAST Maritime Institute and
is a part time judicial assistant at the Courts of Justice, Malta.
Her main areas of practice are civil law, commercial law, EU law in general, as well as the specialised fields of transport law, competition law (anti-trust) and electronic communications law.  She is also holds a Diploma in Matrimonial Jurisprudence (Canonical Law) from the Archdiocese of Malta and is qualified to appear before the Ecclesiastical Tribunal.