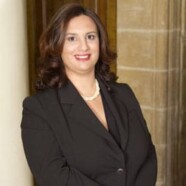 Ilona Debono nee' Blackman graduated Doctor of Laws from the University of Malta in 1999 and was called to the Bar in March 2000. In 1999 she obtained a Diploma in Canonical Marriages: Cases and Jurisprudence. Dr Debono joined the legal firm Sciriha, Attard Montalto, Galea and Associates in the year 2000.
Dr. Debono's main area of practice is in Civil Law with particular interest in Family Law. She regularly defends clients in court litigation, arbitration, mediation and dispute resolution proceedings. She has acted as a visiting examiner and visiting lecturer at the Faculty of Laws, University of Malta. Dr. Debono presently holds the position of president to the Medical Council.
She is fluent in English, Maltese and Italian.