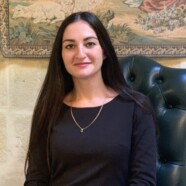 Dr Joanne Farrugia joined the firm as a trainee in 2015. She pursued her studies at the University of Malta, graduating as Bachelor of Laws (Honours) in 2016. Joanne was admitted to the bar in 2018 after graduating as Master of Advocacy from the same University in 2017.
In the course of her studies for the first degree, Dr Farrugia submitted a dissertation entitled 'Criminal liability in road traffic accidents.'
Dr Farrugia's main areas of work include criminal, civil and commercial law, with particular interest in the day-to-day legal work of commercial entities. Joanne is also actively involved in public procurement, tendering processes, debt collection and contract drafting.
Dr Farruga is fluent in English, Maltese and Italian, and has a working knowledge of French.
Email: joannefarrugia@sagajuris.com
Mobile number: +356 77809325