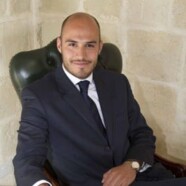 Dr. Lucio Sciriha graduated from the University of Malta as Bachelor of Laws in 2008 and was awarded the Diploma of Notary Public in 2009. Following this Lucio was then awarded the Doctor of Laws degree in 2010 and was called to the Bar in 2011. His doctoral thesis dealt with Competition, Free Movement and Insurance in the World of Football. He has also furthered his studies in November 2012 by concluding a post-graduate degree in Financial Services also at the University of Malta with the title of the thesis being 'Personal Liability Of Company Officers with Reference to Recent Judgments'.
Lucio is heavily involved in litigation, notably in Criminal Law and Commercial Law. He is also an advocate within the Financial Services department of Bridge Finance and Advisory. His principle areas comprise Corporate Law, Collective Investment Schemes, Pharma and Energy Law .
Dr. Sciriha is a registered FIFA Football Player's Agent and offers consultancy services to both individual athletes and clubs.
Lucio's past traineeships include posts with other leading law firms being fluent in English, Maltese and Italian and with a working knowledge of French.