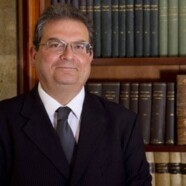 Patrick J Galea was educated at a Jesuit College and at the Universities of Malta and Edinburgh. His thesis at the University of Malta (1981) was on "The Notion of Possession."  In private work since his Call to the Bar of Malta in 1982, he today combines legal practice as an Advocate, a founder member of the Chambers in Valletta SAGAJURIS, with an academic interest. Prior to commencing his legal practice, he spent some months reading civil law and philosophy of law at "La Sapienza" University in Rome, under the supervision of the Prof Sergio Cotta and Prof Pietro Rescigno, and later worked with Prof Guido Alpa.
He has practised extensively in civil, company and commercial law, both in advisory capacity or pleading in court audiences. Other interests and areas of professional activity include trusts, foundations, succession and estate planning, company law and litigation, intellectual property and all aspects of European Private International Law. He also appears regularly in Arbitration proceedings and also sits as Arbiter on Arbitration panels.
He has served, and currently serves, on various company boards: he was Chairman of an Austrian Bank in Malta for seventeen years, and currently sits on boards of another bank licensed in Malta, a company listed at the Malta Stock Exchange, a licensed insurer and on the board of a major auditing firm.
He has lectured extensively and examined at the University of Malta since 1983, principally in civil law and procedure, Law of property, lease and guarantees, serving also as Head of the Civil Law Department and member of the University Senate. He has been lecturing for a number of years at the Summer Private Law School of the University of Salzburg.
Since the early 1990's, he has been a member of the editorial board publishing the judgements of the Superior Courts of Malta. His task includes providing the brief introductory comment to the text of the judgement. He also served for a period of time on the Editorial Board of and contributed to a Legal Journal in Malta "De Jure."
He formed part of the group of Experts of the European Union on the Succession Regulation and on the Regulation relative to the property consequences of marriage and other unions.
Part of Group of Experts on intellectual property rights of SMEs.
Joint Vice-Chairman of the Malta Branch of the Royal Commonwealth Society.
Publications
"Chapter on Malta", in Guide to Insolvency in Europe, eds A R Houghton and N G Atkinson (1993) Deloite Tomhatsu, CCH International
"Chapter on Malta", in Evidence and Civil Proceedings in International Electronic Evidence, ed S Mason (2008) British Institute of International and Comparative Law
"Chapter on Malta" in National Reports on Transfer of Movables in Europe Ed W Faber and B Luger, (2010) Selier
"Security Interests in the Malta Aircraft Registration Act 2010" in Liber Amicorum David Pugsley ed J M Rainer and E Van den Haute, (2013), Brulyant
Various papers at professional Seminars or Conferences in Vienna, London and Malta:
London, 2008 – A brief overview of Malta, a roman-civil law country, with common law adoption as rules of civil evidence
Vienna, 2003 – Collateral to secure claims
Vienna, 2007 – Rome I and Rome II – Further Steps of the EU to harmonize Private International Law in Civil and Commercial Matters
Vienna, 2008 – A review in harmonization initiatives relating to the European Private Law on Securities
Vienna, 2014 – Important Amendments to the Brussels I Recast
Vienna, 2015 – The European Account Preservation Order
Valletta, 2005 – Aspects of the Reform of the Malta Law of Succession – Chamber of Advocates, Malta
Valletta, 2007 – Reforms to Warrant and Execution Procedure in Maltese Civil Procedure – Chamber of Advocates, Malta
Valletta, 2008 – Party Walls – A proposal for Reform. Distance required by Law for excavation and damage consequent to such excavation – Chamber of Architects
Valletta, 2009 – Professional Liability and Indemnity Insurance – Chamber of Professional Engineers
Valletta, 2010 – Some Procedural Aspects of the Rent Law Amendments, Chamber of Advocates Malta
Memberships
Chamber of Advocates, Malta
Academy for European Private Law
Malta Business Network
PHD Award
In 2016, he was awarded his PhD by the University of Edinburgh. His thesis, entitled "The Trust Laws of Jersey and Malta – a civilian interpretation" was supervised by Prof George Gretton.
Languages: English, Maltese, French, Italian and Latin.
Contact Information:
Email: patrick.galea@sagajuris.com; info@pjgjuris.com

Telephone: +356 21237622
Direct: +356 21250502, +356 21238107, +356 21232387
Mobile: +356 99471766
Fax: +356 21230541, +356 21250857